Castle Leslie Introduction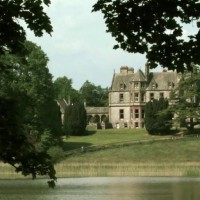 Nestled on 1,000 acres of undulating Irish countryside, dotted with ancient woodlands and glittering lakes, Castle Leslie Estate is one of the last great Irish estate still in the hands of its founding family.

The Leslie Family arrived in Ireland in the 16th Century and bought the Estate at that time. Today, it is led and managed by Sammy Leslie and governed by a Family Trust. The family considers itself to be guardians of the land and its overwhelming desire is to protect the Estate for future generations.
Located in Glaslough, Monaghan, Castle Leslie Estate is just 80 minutes from Dublin and 60 from Belfast. Following extensive restoration over the past decade, the Estate has been all but transformed to its original glory. Today this luxury hotel Ireland boasts a variety of accommodation, dining options and a diverse range of on and off-site activities. It is the perfect location for a romantic adult break, a family activity holiday or a business meeting or celebration. It is a magical and captivating setting for a special wedding celebration.
Castle Leslie Estate uniqueness, character and charm can only be felt, not described.
Therefore we invite you to come and experience it for yourself and we look forward to welcoming you to the Estate so can sample our renowned hospitality making Castle Leslie one of the finest make Castle Leslie one of the finest luxury hotels Ireland.luxury hotels Ireland. At the end of your visit, why not take home something from Castle Leslie Estate's Gourmet Gifts and Goodies range- a multi-award winning range that has acquired over 20 Great Taste Awards.
Or if you really feel at home on the Estate, why not make a permanent investment and buy one of our wonderful Village Cottages or Houses. That way you too can own a piece of Castle Leslie Estate. So if you are looking for Luxury 4 star hotels Ireland, stay at Castle Leslie Estate, Co Monaghan.